In setting up an incubator, Greenovations are guided by the following reflection:
What are the services provided by technology and innovation hubs in the green sector? What services can be offered virtually?
How can we define a reference model for successful hubs in selected sectors of green innovation?
How can we support the implementation and replication of the reference model in the continent?
Beyond incubation, and in line with the quintuple helix framework, Greenovations takes into consideration funding and acceleration needs of youth and women by reflecting the following:
What are the main challenges for the funding and scale up of start-ups in the green sector in Africa?
What are the services provided by accelerators in the green sector? What are those services that can be offered virtually?
How can we design and showcase a reference replicable model for a sustainable accelerator in select green innovation sectors for further adoption and adaptation for green innovators and entrepreneurs across the continent?
How can traditional entrepreneurial frameworks within Regional Economic Communities(RECs), chambers of commerce, cooperatives, complement the need for organization, networking and growth in green innovation and entrepreneurship in Africa?
The incubation framework takes into account gender consideration by paying attention to gender perspective
What are the needs including mentorship and coaching opportunities for women to start or grow their green innovation and entrepreneurship activities?
How can organizations (private sector, chambers of commerce, cooperatives, civil society) and investors at different scales (grants, seed capital, micro-finance, national women entrepreneurship funds, equity etc.) collaborate with women-led green entrepreneurship in both the formal and informal sectors (e.g. through mentorship, market access, IT integration, value chain entry etc.)?
Virtual Incubator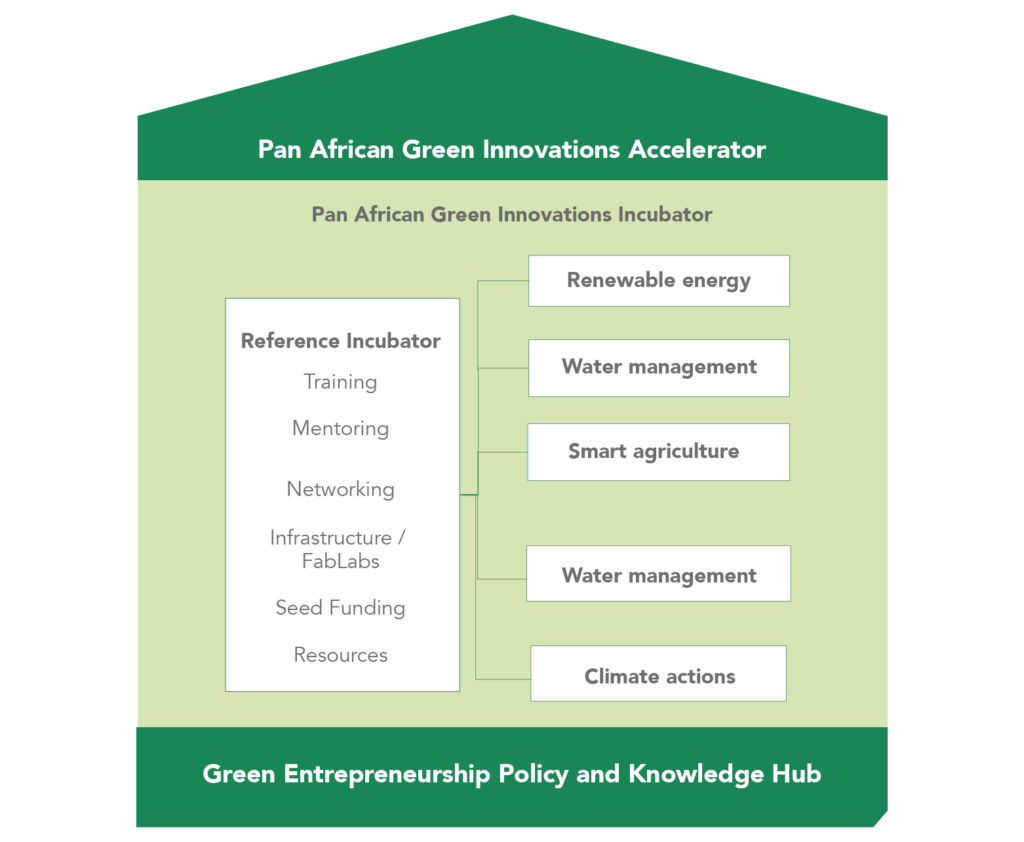 The Greenovations virtual incubator will include services to support start-ups and early-stage enterprises with appropriate training, mentoring and business coaching that enable them to prove and introduce their solutions in the market.
The virtual incubator will employ open innovation methods and processes such as hackathons, pitches and competitions to support the ideation and incubation of solutions. Furthermore Greenovations will coordinate existing processes by partners to build and maximizes on synergies in support of youth and women entrepreneurs and innovators.
As part of networking, the Greenovations community of practice platform will be launched to support the exchange between different actors and stakeholders, contextualization, and replication of the model in different countries.