After the completion of a rigorous selection process, the final participants in the Greenovations Africa – 2023 programme have been selected and the results are out. Following their notification, an onboarding session to unveil the selected successful 30 participants was organised by the project team and held online on 21st July 2023. The selected cohort of green sector innovators from across Africa's regions received insights on the key components of the incubation and mentorship framework of the programme.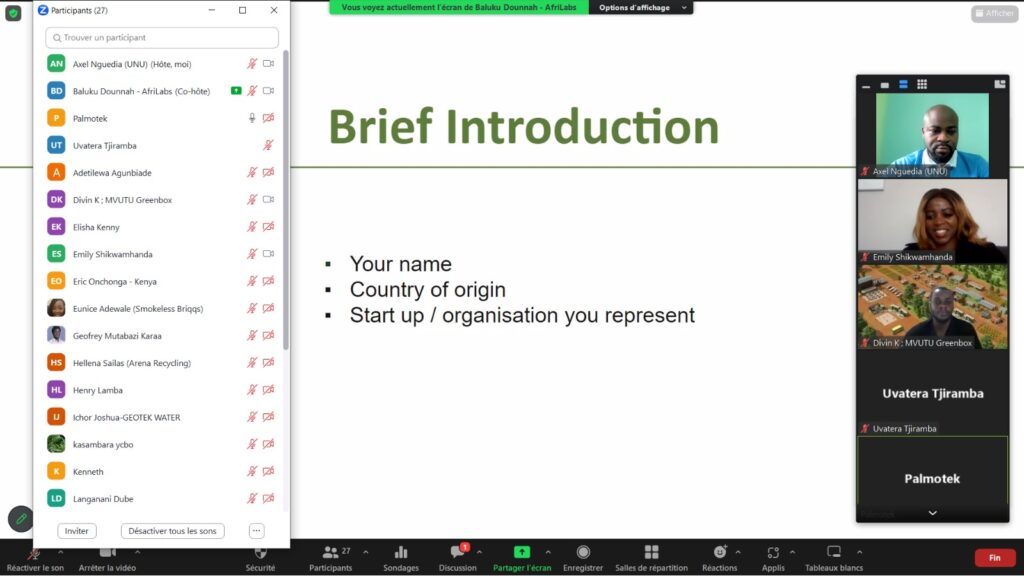 Following, the call for applications for the Greenovations Africa – 2023 programme, officially launched on March 15th and closed on April 23rd 2023, received 777 high-quality applications from the five regions of the continent. The first cohort of the programme comprising thirty successful applicants was selected with 6 successful applicants per each of the five different green sectors of renewable energy, smart agriculture, waste management, climate action, and water management. Given the specific focus of the programme on supporting women entrepreneurs, the cohort gender balance stood at 60% female for 40% male, with an average female representation of 53% of women in leadership positions.
The selected green sector innovators and entrepreneurs, through the Greenovations Africa – 2023 programme, will receive dedicated support in the refinement of their products and businesses and be provided with tailored mentorship support for scaling the business ventures. The successful participants have green innovation concepts and businesses across the five regions of the continent from countries such as Kenya, Zambia, Uganda, Zimbabwe, Malawi, Ghana, Zambia, Tanzania, Sierra Leone, DRC Congo, Botswana, Nigeria, Tunisia to name a few.
The Greenovations Africa programme combines incubation and post-incubation programmes, providing the successful participants with sector-specific skills, entrepreneurial knowledge, and the resources needed to boost their chances of success through the maturation process of their business concept or solution. This programme initiative will assist with turning the African youth and women innovations into viable and market-ready products and innovations to scale.